Headlines 2012
Walter John Tennant, Jr. Selected as 2012 Rhea Eckel Clark Citizenship Award Recipient—December 2012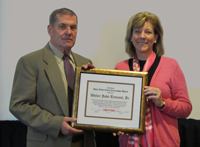 Philip Tennant accepts the REC award on behalf of his brother Walter J. Tennant Jr. from Board Chairwoman Kathleen A. Rapp.
Walter John Tennant, Jr. was named, posthumously, the recipient of the 26th annual Rhea Eckel Clark Citizenship Award at the Central New York Regional Planning and Development Board's annual meeting held on December 12, 2012.
Mr. Tennant was born in Cortland and was a life-long resident. He graduated from Union College in Schenectady in 1965 with a degree in Civil Engineering. At the age of 33 he became the youngest and first professional civil engineer appointed to the position of highway superintendent in Cortland County. Mr. Tennant retired from the County after more than 30 years of distinguished service and was lauded for his integrity and high standards.
Mr. Tennant held many leadership roles throughout his life including President of the National Association of County Engineers. He also played a significant role as a member of the Homer Library Board, the Newman Foundation, the Cortland County Industrial Development Agency, the Central New York Enterprise Development Corporation, and most recently as Chairman of the CNY RPDB.
Town of Preble ribbon-cutting Oct. 3—October 2012
Through the CNY RPDB's Climate Change Innovation Program (C2IP), CNY RPDB staff has provided technical and financial assistance to the Town of Preble in Cortland County to guide the completion of a demonstration project centered on an energy retrofit to the Town's historic 1906 two-room school house now used as the Town Hall and Post Office. Through the CNY RPDB's Climate Change Innovation Program (C2IP), CNY RPDB staff has provided technical and financial assistance to the Town of Preble in Cortland County. Staff will help guide the completion of a demonstration project centered on an energy retrofit to the Town's historic 1906 two-room school house now used as the Town Hall and Post Office. Renovations to the building will include the following:
insulation and air sealing;
replacing a fuel-oil forced-air heating system with electric heat pumps that will also provide air conditioning;
a lighting retrofit;
window replacement; and
installation of a 9.4kW solar photovoltaic system.
The total projected project cost is $136,000. In addition to financial assistance from New York State Senator James Seward (R – Oneonta), NYSERDA, and National Grid, the CNY RPDB provided the Town with a $30,000 grant. The Town will realize a payback of less than 9 years and an annual emissions reduction of 19.53 tons of CO2e. This project will completely eliminate the need for fossil fuel combustion on site.
CNY RPDB Promotes Intermunicipal Stormwater Cooperation—September 2012
The CNY RPDB, using funds acquired through an Environmental Protection Fund grant from the New York State Department of Environmental Conservation (NYSDEC), organized and currently oversees the Central New York Intermunicipal Stormwater Coalition, which fosters cooperative efforts among regulated Municipal Separate Storm Sewer Systems (MS4s) and partner agencies in the Syracuse Urbanized Area. Since 2003, MS4 communities have been required to comply with DEC regulations regarding stormwater and to develop and implement plans to reduce discharges of polluted stormwater runoff to local water resources. Syracuse area MS4s recognize that intermunicipal cooperation can increase efficiency by employing economies of scale and reducing duplication of efforts in meeting this mandate. Under the leadership of the CNY RPDB, the CNY Stormwater Coalition was officially formed through adoption of a Memorandum of Agreement by an existing working group of 28 municipalities in January 2011 following careful planning and the development of a self-government structure.
The CNY Stormwater Coalition has undertaken a number of initiatives since its formation, including developing a process for collective annual reporting to NYSDEC and working with NYSDEC to assist Onondaga Lake watershed MS4s with meeting additional requirements for reduction of phosphorus in stormwater runoff, as well as spearheading several education and outreach activities.
Completion of Local Greenhouse Gas Inventories—August 2012
The CNY RPDB assisted the City of Syracuse and the Town of DeWitt with completion of their local greenhouse gas inventories, a major component of the CNY RPDB's Climate Change Innovation Program (C2IP). Energy Program staff assisted with the placement of undergraduate and graduate student interns from SUNY-ESF to collect and analyze important information such as municipal energy use including electricity and building and transportation fuel consumption. Staff then assisted each municipality compile and present the information in a comprehensive report that is available for review by municipal officials, town staff [who's staff?] and the general public. The greenhouse gas inventories will provide information needed by each municipality to complete a climate action plan for the reduction of emissions and energy use in local government operations and the community at large.
Pulaski Village Kallet Theater Rehabilitation Moves Ahead—July 2012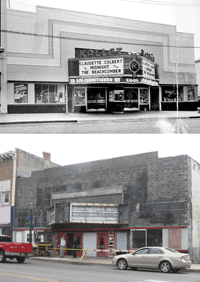 The historic Kallet Theater building (c. 1938) in the Village of Pulaski moves ahead with rehabilitation to become the Pulaski Performing Arts Center, a regionally-important, multi-use events and conference space at the heart of Pulaski's downtown business district. Ground-breaking work began this summer with the support of a Restore NY-Round 3 Grant awarded in September 2009, New York Main Street Downtown Anchors and Streetscape Grants awarded in 2010, and a 2010 National Grid Main Street Grant. The first steps in the building's rehabilitation have been structural engineering, masonry work, and disassembly of the original marquee, to be rehabilitated as a key feature of the building's restored façade. The project was envisioned and successfully funded as a direct result of the recently-completed joint Town of Richland and Village of Pulaski Comprehensive Plan produced by the CNY RPDB in collaboration with the communities of Richland and Pulaski.
Images at right: top, historic photo of the Kallet Theater; bottom, the Kallet Theater as it starts undergoing renovation.
CNY Enterprise Development Corporation Approves Six Small Business Loans—June 2012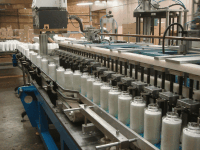 During the first six months of 2012, the CNY Enterprise Development Corporation (CNY EDC) of the CNY RPDB approved six loans totaling $616,000 to small businesses in the region. The loans will support the creation or retention of 72 full-time jobs and will leverage in excess of $3,450,000 in additional public and private financing. Projects assisted by the CNY EDC run the gamut from a start-up manufacturer to an energy efficiency improvement project to the redevelopment of a key commercial building in a revitalized downtown district.
Loans were awarded to the following businesses:
Light 4 Life, LLC of Liverpool received two loans, a $100,000 loan combining funding for equipment and working capital to restart a candle manufacturing operation and a $16,000 loan to fund required energy efficiency projects at its facility;
Critters Unlimited, Inc. of Moravia secured a $100,000 equipment and working capital loan to upgrade and expand operations at its feeder rodent production facility;
DL Manufacturing of North Syracuse received a $100,000 working capital loan to assist with a production ramp up necessitated by an unexpected increase in demand;
Nick's Garage, Inc. of Syracuse received approval for a $100,000 Energy Efficiency Improvement loan to purchase high efficiency auto paint booths;
V-Squared Management, LLC of Pulaski received approval for $200,000 in interim financing and $100,000 in permanent financing to support the rehabilitation of the Kallet Theater in Downtown Pulaski, NY.
CNY RPDB Conducts a Cultural Landscape Survey for 'Opendore', the Isabel Howland House in Sherwood—June 2012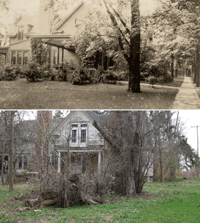 The CNY RPDB conducted a Cultural Landscape Survey of existing conditions of for the historic grounds surrounding the Isabel Howland Home ('Opendore'). The study documented the location and change over time of historic plantings and other site components to be protected from damage while the National Register-listed property in the Sherwood Equal Rights Historic District in Scipio NY, undergoes rehabilitation for reuse as a museum and public meeting space. A Environmental Protection Fund grant of $400,000 secured by the CNY RPDB from the NYS Office of Parks, Recreation and Historic Preservation, will be used for the stabilization and rehabilitation of 'Opendore', the c. 1837–1911 structure in the historic Hamlet of Sherwood In Cayuga County. The Cultural Landscape Survey was the first step in the partially grant-funded project that aims to link the historic Hamlet of Sherwood with the congressionally-supported Votes for Women History Trail, the Freedom Trail, and the Central New York Region. The CNY RPDB previously secured a National Trust for Historic Preservation grant of $5,000 to support the project.
Images at right: top, historic photo of 'Opendore'; bottom, 'Opendore' as it appears before renovation begins.
Solarize Madison—June 2012
The CNY RPDB assisted Madison County in launching Solarize Madison, a bulk-purchasing solar initiative. The program is the first of its kind in New York State and is open to homeowners, businesses, farms, municipalities and not-for-profit organizations in Madison County. Enrollment for Solarize Madison opened on June 15, 2012, with participants eligible to receive a free solar site assessment for their property. CNY RPDB staff assisted Madison County with the RFP process leading to the selection of two installers, ETM Solar and Arista Power. The program works by streamlining the process and reducing the cost of installing solar photovoltaic (PV) systems. Participants have the opportunity to lease or buy their system. More details on the program including information on our selected installers, solar options and pricing can be found at www.solarizemadison.com. Madison County is offering an additional $2,000 to the first 15 homeowners agree to become Solar Ambassadors, and sign a contracts for direct-own solar photovoltaic system. The "Solar Ambassador" program has received support through the Central New York Climate Change Innovation Program, funded through the US EPA Climate Showcase Communities Program.
The Solarize Madison program is the first of its kind in the State and has met with extraordinary results. In just a few months the program will have more than doubled the amount of solar energy systems in Madison County. There are currently over 125 kW of solar either installed or scheduled to be installed as part of the program. Because of its success, the program enrollment deadline has been extended by two weeks, to Friday October 12.
Regional Loan Fund—May 2012
In 2010 the CNY RPDB was solicited by Onondaga County to assist in the administration of a commercial energy efficiency loan fund for commercial property owners in Onondaga County. The loan fund was capitalized by the Energy Efficiency and Conservation Block Grant (EECBG) Program funded by the American Recovery and Reinvestment Act (Recovery Act) of 2009. Also in 2010 the CNY RPDB and the County of Oswego submitted and received approval to administer a loan fund for the Central New York region through NYSERDA's Better Buildings program. In total, the CNY RPDB is administering approximately $1.2 million in energy efficiency financing covering the five-county CNY region (Cayuga, Cortland, Madison, Oswego, and Onondaga Counties). The CNY RPDB is pleased to be able to offer this assistance along with the E$C program outreach work being completed as an additional resource available to businesses to assist the implementation of energy efficiency measures in their facilities.
Cleaner Greener Communities—May 2012
Onondaga County received a NYSERDA grant of $1,000,000 to prepare a regional sustainability plan through the Cleaner, Greener Communities program announced by Governor Andrew M. Cuomo in his 2011 State of the State address. The development of a comprehensive regional sustainability plan is the first stage of the Cleaner, Greener Communities program and is intended to provide resources that each New York State region can use to develop its own vision, goals and objectives for a sustainable future, identify actions needed to achieve that future, and outline metrics to measure success. Only one award was made in each region of the state.
At the County's request, the CNY RPDB will lead the planning process for the Central New York Regional Economic Development Council (REDC) region and will provide required reporting to the state. The CNY RPDB has contracted with O'Brien and Gere Engineers for assistance in preparing the plan. Once the plan is developed, additional funding will be available from the Cleaner, Greener Communities program on a competitive basis to implement projects that support the goals of the plans. Projects must create opportunities for achieving carbon reductions, energy efficiency savings, and/or renewable energy deployment while enhancing job creation, economic investment, and development consistent with the region's sustainability and REDC's strategic plan.
Climate Smart Communities—April 2012
The CNY RPDB secured a NYSERDA grant of $322,500 to coordinate the Climate Smart Communities program in Central New York. Through the one-year pilot program, the CNY RPDB will prepare a regional greenhouse gas inventory and provide technical assistance to local municipalities to complete energy and carbon emissions reduction plans and projects. The CNY RPDB has contracted with environmental consultants ICF International to assist with the regional greenhouse gas inventory.
Shades of Green—February 2012
CNY RPDB staff assisted with the development and coordination of Shades of Green in Madison County: A Green Living Experience, held on February 24, 2012, at Morrisville State College. The event was a huge success, with over 250 participants that included 30 speakers and 22 exhibitors. The full day conference focused on living green, smart growth and sustainability, and was a first-of-its-kind in the region. The program featured three tracks, for homeowners, business owners, and community leaders. Shades of Green featured over 25 speakers in four breakout sessions in each track on topics such as greenhouse gas reduction, effective historic preservation, innovations that decrease solid waste, the power of buying local, sustainable building practices, and lessons in smart growth. Peter Fleischer, Executive Director of Empire State Future, and Neil Murphy, the President of the SUNY College of Environmental Science and Forestry (ESF) were the keynote speakers. Sysco was the presenting sponsor for the event.
CNY RPDB Launches Central New York Energy Challenge—February 2012
The CNY RPDB has formed a partnership with the New York State Energy Research and Development Authority (NYSERDA) to develop an innovative outreach program -- the Central New York Energy Challenge -- to encourage and assist property owners throughout Central New York to conserve energy, make energy upgrades, and implement renewable energy projects. As part of the CNY Energy Challenge the CNY RPDB, in partnership NYSERDA, has launched a pilot program called "Energy Challenge Teams."
Energy Challenge Teams consist of five to eight households that work together through a five-unit, 12-week curriculum to learn about energy use and energy saving actions within the home. The actions covered will help homeowners to maintain the value of their homes, improve comfort, and lead to energy savings of up to 30%. Participants' energy consumption will be tracked over a period of 18 months to measure program outcomes.
Currently the CNY RPDB is seeking interested homeowners to facilitate Energy Challenge Teams. Facilitators may MUST own their own home. To become a Challenge Team facilitator, contact Samuel Gordon at the CNY RPDB at (315) 422-8276 ext. 204 or visit cnyenergychallenge.org and follow the link to "join an energy challenge team." Facilitator trainings will be scheduled on an as needed basis. Participants will receive a facilitator guide and materials to distribute to their teams at the training.