Home—Village of Phoenix Strategic Plan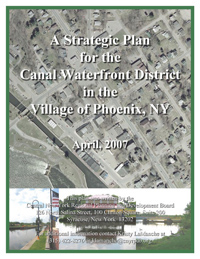 View the Strategic Plan
The Village of Phoenix received a $25,000 grant from the Governor's Office for Small Cities to develop a strategic plan for waterfront and downtown revitalization. The grant is intended to achieve the following objectives:
Establish renewed effort by reinvigorating support for achieving the goals for the community;
Seek to engage the residents, businesses and others through public notices, meetings and hearings;
Identify key issues, obstacles, opportunities and strategies that are critical to the successful implementation of the Village's Comprehensive Plan; and
Identify eligible grant opportunities and prepare applications for funding.
In June of 2006, the Central New York Regional Planning and Development Board was selected by the Village to serve as consultants to the project. The following is a description of the Board's tasks for fulfilling achieving the objectives of the Small Cities grant.
Prepare an outreach plan to engage residents' and businesses' participation in a public involvement and debate process;
Establish a planning committee to oversee the preparation of the waterfront and downtown revitalization plan;
Identify key issues associated with the implementation of the current comprehensive plan;
Identify potential prospects for future grants; and
Develop a roadmap for implementation of the strategic plan and identify the elements, long and short term, which constitute the specific activities that need to take place to fulfill the goals of the plan.
For additional information on the Village of Phoenix Strategic Plan process, contact Jeanie Gleisner at jgleisner

@

cnyrpdb

.

org or (315) 422-8276, ext. 212.