Transportation Planning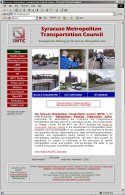 The primary goal of the Central New York Regional Planning and Development Board's Transportation Planning program is to assist with the development and use of the region's transportation resources. To achieve this goal, the CNY RPDB has undertaken a number of initiatives including support that is provided to the Syracuse Metropolitan Transportation Council (SMTC).
The SMTC is the state designated Metropolitan Planning Organization (MPO) responsible for administering the comprehensive planning process in Onondaga County and for small portions of Madison and Oswego counties. At the request of Onondaga County, the CNY RPDB serves as the host agency for the SMTC and is responsible for providing a range of administrative services and staff resources to support the organization. As part of this effort, the CNY RPDB also participates actively on the SMTC's Executive, Planning, and Policy Committees. In addition, staff assists the SMTC with the preparation of the organization's Long Range Transportation Plan, Unified Planning Work Program, and Transportation Improvement Plan.
The CNY RPDB is also engaged in the completion of a range of special purpose transportation studies for communities across Central New York. Key studies completed in recent years include the Central New York Regional Aviation System Plan, and the arterial access management plans in Cortland and Madison Counties.