About the Central New York Region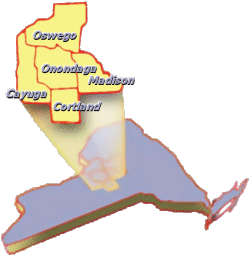 Central New York is geographically centered in Upstate New York and includes the counties of Cayuga, Cortland, Madison, Onondaga, and Oswego. The region covers an area of 3,622 square miles comprising a balance of an urban center, suburban areas, small cities and towns, and rural farming communities. The region is located in close proximity to the cities of Rochester, Buffalo, Albany, and Binghamton and is within a 4 to 5 hour drive to New York, Toronto, Boston, Philadelphia, and Montreal.
Central New York has an extensive transportation network, which includes Interstate Routes 81 and 90, Syracuse Hancock International Airport, a CSX inter-modal rail freight center, an Amtrak passenger station, the deep water Port of Oswego, and a public transportation bus service maintained by the CNY Regional Transportation Authority. The region is also served by an extensive network of public sewer and water facilities, electric and gas service, and an advanced telecommunications system. Major service providers include the Onondaga County Water Authority, National Grid, Verizon, and Time Warner Communications.
The region has a stable population base of 792,000 residents and a labor force numbering over 400,000 workers. Annual wage cost in the five county area is competitive with national levels and significantly below major metropolitan areas in the northeast. The skills of the Central New York labor force support a wide range of economic sectors including warehouse and distribution, wholesale and retail trade, the construction trades, transportation and utilities, and government. Major employers in the region include SUNY Health Science Center, Syracuse University, National Grid, Carrier Corporation, Lockhead Martin, Stickley, Welch Allyn, Novellis United Parcel Service, Verizon, Anheuser-Busch, Bristol-Myers Squibb, Cooper/Crouse Hinds, Southerland, Sensis, Marietta, Nucor Steel, Ferris Industries, and the Syracuse Research Corporation.
In Central New York, businesses have access to a wide range of real estate opportunities that are very affordable and diverse—from sophisticated high-tech research center, to planned office and industrial parks and efficient warehouse and distribution facilities. This real estate inventory includes several Build Now-NY "shovel ready" sites. A network of county and regionally based organizations is available to help companies access these resources along with financial, tax incentive, and workforce training assistance.
In upstate New York, there are over 44 intuitions of higher education serving Central New York with a combined enrollment of more than 215,000 students. Top area schools include Syracuse University, Cornell University, SUNY Binghamton, SUNY Upstate Medical University, SUNY College of Environmental and forestry, Rochester Institute of Technology, University of Rochester, Clarkson University, SUNY Cortland, Colgate University, SUNY Oswego, LeMoyne College, and Onondaga Community College.