Rhea Eckel Clark Citizenship Award, Past Recipients

Download the
Nomination Form
Walter John Tennant, Jr., CNY RPDB's 2012 REC Award Recipient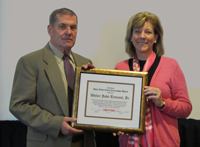 Philip Tennant accepts the REC award on behalf of his brother Walter J. Tennant Jr. from Board Chairwoman Kathleen A. Rapp.
Walter John Tennant, Jr. was named, posthumously, the recipient of the 26th annual Rhea Eckel Clark Citizenship Award at the Central New York Regional Planning and Development Board's annual meeting held on December 12, 2012.
Mr. Tennant was born in Cortland and was a life-long resident. He graduated from Union College in Schenectady in 1965 with a degree in Civil Engineering. At the age of 33 he became the youngest and first professional civil engineer appointed to the position of highway superintendent in Cortland County. Mr. Tennant retired from the County after more than 30 years of distinguished service and was lauded for his integrity and high standards.
Mr. Tennant held many leadership roles throughout his life including President of the National Association of County Engineers. He also played a significant role as a member of the Homer Library Board, the Newman Foundation, the Cortland County Industrial Development Agency, the Central New York Enterprise Development Corporation, and most recently as Chairman of the CNY RPDB.
Past Recipients
| | |
| --- | --- |
| 2019 | James J. Murphy, Jr., CNY RPDB Chairman |
| 2018 | Lawrence J. Baker, CNY RPDB Board member |
| 2017 | Rhea Jezer, Director and Chair, Symposium on Energy in the 21st Century; President, Energy21 LTD |
| 2016 | Robert J. Daino, President and CEO, WCNY |
| 2015 | Kathryn Howe Ruscitto, President and CEO, St. Joseph's Hospital Health Center |
| 2014 | Barbara S. Rivette, Historian, Town and Village of Manlius and Village of Fayetteville |
| 2013 | Cornelius B. Murphy, Jr., PhD., President, SUNY College of Environmental Science and Forestry |
| 2012 | Walter John Tennant, Jr. (posthumously), Chairman, CNY RPDB |
| 2010 | Louis Pettinelli, CNY RPDB Board member |
| 2009 | Mary Ann Messinger, CNY RPDB Board member |
| 2008 | Ferdinand L. Picardi, Chairman, Metropolitan Water Board, Onondaga County Water District |
| 2007 | David R. Elleman, CNY RPDB Board member, Onondaga County Comptroller (retired) |
| 2006 | Eugene G. Saloga, Director, City of Oswego Community Development (retired) |
| 2005 | John Zawadzki, President, Partners Trust Bank; Central Upstate Regional Alliance |
| 2004 | James T. Walsh, U.S. Congressman |
| 2003 | Robert Doucette, Armory Development & Management |
| 2002 | Chuckie Holstein, FOCUS Greater Syracuse |
| 2001 | Ralph Standbrook, Chairman, Cayuga County Legislature |
| 2000 | Robert H. Kuiper, Mayor, Village of Hamilton |
| 1999 | John H. Mulroy (posthumously), former Onondaga County Executive |
| 1998 | Ann Petrus, Chair, Cayuga County Water & Sewer Authority; Supervisor, Town of Brutus |
| 1997 | Bruce B. Phelps, Oswego County businessman |
| 1996 | Arthur W. Ospelt, Oswego County Administrator |
| 1994 | Ray Halbritter, Oneida Nation Representative; CEO, Nation Enterprises |
| 1993 | Tarky Lombardi, Jr., former New York State Senator |
| 1992 | Vijay Mital, Director, Department of Planning and Economic Development, City of Auburn; Team Snyder General |
| 1991 | Marilyn Higgins-Rohde, Senior Vice President, Greater Syracuse Chamber of Commerce |
| 1990 | Robert J. Congel, President, Pyramid Companies |
| 1989 | Warren H. Frank, Executive Director, CNYRTA |
| 1988 | Mayor Tom Young's Advertising Advisory Council |
| 1987 | Francis P. Benton, former CNY RPDB Chairman |
| 1986 | L. Steve Riford, NYS Senator |
| 1985 | Hollis Iselin, Chair, Oswego County Legislature |