Rhea Eckel Clark Citizenship Award, Past Recipients

Download the
Nomination Form
Lawrence J. Baker CNY RPDB's 2018 Rhea Eckel Clark Citizenship Award Recipient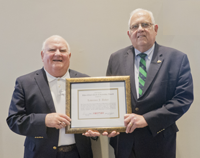 Lawrence J. Baker (left) receives the CNY RPDB's Rhea Eckel Clark Citizenship Award from Board Chairman James J. Murphy, Jr., at the Board's 2018 Annual Meeting
Lawrence J. Baker was named the recipient of the 32nd annual Rhea Eckel Clark Citizenship Award at the Central New York Regional Planning and Development Board's annual meeting held on October 24, 2018.
Mr. Baker is a life-long resident of Upstate New York and has been a figure in the Hamilton community in Madison County for many years. He graduated with B.S. and M.S. degrees in Business Education from SUNY Albany and completed additional graduate work in Higher Education and Administration. After serving on the business faculty at Holland Central School, Mr. Baker served in numerous academic and administrative positions at Morrisville Agriculture and Technical College including Dean of the Business Division, Vice President for Administration, and Acting President. Following a brief period of retirement, Mr. Baker returned to academic life and served as the Assistant to the President for Special Projects at SUNY Morrisville from 1991-2004 and subsequently as a member of the Morrisville State College President's Council and the Morrisville College Foundation.
In addition to his professional career, Mr. Baker has been very active over the years with a full range of activities and service to his community. Among his many engagements, both past and present, were terms of office as a Village Trustee and Mayor of the Village of Hamilton, member of the Hamilton Municipal Utilities Commission, member of the board of directors of Community Memorial Hospital in Hamilton, and he is a long-time member of the CNY RPDB. Among his many achievements, Mr. Baker was presented with the SUNY Chancellor's Award for Excellence in Professional Service, the Mohawk Valley Outstanding Alumnus Award, the Morrisville State College Lifetime Achievement Award, and the Village of Hamilton Civic Award.
Past Recipients
| | |
| --- | --- |
| 2019 | James J. Murphy, Jr., CNY RPDB Chairman |
| 2018 | Lawrence J. Baker, CNY RPDB Board member |
| 2017 | Rhea Jezer, Director and Chair, Symposium on Energy in the 21st Century; President, Energy21 LTD |
| 2016 | Robert J. Daino, President and CEO, WCNY |
| 2015 | Kathryn Howe Ruscitto, President and CEO, St. Joseph's Hospital Health Center |
| 2014 | Barbara S. Rivette, Historian, Town and Village of Manlius and Village of Fayetteville |
| 2013 | Cornelius B. Murphy, Jr., PhD., President, SUNY College of Environmental Science and Forestry |
| 2012 | Walter John Tennant, Jr. (posthumously), Chairman, CNY RPDB |
| 2010 | Louis Pettinelli, CNY RPDB Board member |
| 2009 | Mary Ann Messinger, CNY RPDB Board member |
| 2008 | Ferdinand L. Picardi, Chairman, Metropolitan Water Board, Onondaga County Water District |
| 2007 | David R. Elleman, CNY RPDB Board member, Onondaga County Comptroller (retired) |
| 2006 | Eugene G. Saloga, Director, City of Oswego Community Development (retired) |
| 2005 | John Zawadzki, President, Partners Trust Bank; Central Upstate Regional Alliance |
| 2004 | James T. Walsh, U.S. Congressman |
| 2003 | Robert Doucette, Armory Development & Management |
| 2002 | Chuckie Holstein, FOCUS Greater Syracuse |
| 2001 | Ralph Standbrook, Chairman, Cayuga County Legislature |
| 2000 | Robert H. Kuiper, Mayor, Village of Hamilton |
| 1999 | John H. Mulroy (posthumously), former Onondaga County Executive |
| 1998 | Ann Petrus, Chair, Cayuga County Water & Sewer Authority; Supervisor, Town of Brutus |
| 1997 | Bruce B. Phelps, Oswego County businessman |
| 1996 | Arthur W. Ospelt, Oswego County Administrator |
| 1994 | Ray Halbritter, Oneida Nation Representative; CEO, Nation Enterprises |
| 1993 | Tarky Lombardi, Jr., former New York State Senator |
| 1992 | Vijay Mital, Director, Department of Planning and Economic Development, City of Auburn; Team Snyder General |
| 1991 | Marilyn Higgins-Rohde, Senior Vice President, Greater Syracuse Chamber of Commerce |
| 1990 | Robert J. Congel, President, Pyramid Companies |
| 1989 | Warren H. Frank, Executive Director, CNYRTA |
| 1988 | Mayor Tom Young's Advertising Advisory Council |
| 1987 | Francis P. Benton, former CNY RPDB Chairman |
| 1986 | L. Steve Riford, NYS Senator |
| 1985 | Hollis Iselin, Chair, Oswego County Legislature |