Rhea Eckel Clark Citizenship Award, Past Recipients

Download the
Nomination Form
Katheryn Howe Ruscitto CNY RPDB's 2015 Rhea Eckel Clark Citizenship Award Recipient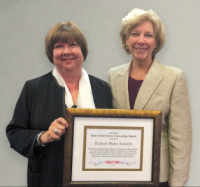 Katheryn Howe Ruscitto (left) receives the CNY RPDB's Rhea Eckel Clark Citizenship Award from Board Chairwoman Kathleen A. Rapp at the Board's 2015 Annual Meeting
Katheryn Howe Ruscitto was named the recipient of the 29th annual Rhea Eckel Clark Citizenship Award at the Central New York Regional Planning & Development Board's Annual Meeting held on October 23, 2015
Kathryn Howe Ruscitto currently serves as president and chief executive officer of St. Joseph's Hospital Health Center, a comprehensive, mission-based health care system that encompasses a 16-county service area. Ms. Ruscitto has been employed by St. Joseph's since 2001, and became the institution's 13th president and chief executive officer in 2011.
In her tenure at St. Joseph's, Ms. Ruscitto has led initiatives to improve the quality and safety of patient care, and has focused on deepening physician engagement in operations and strategic development. In addition, under Ms. Ruscitto's leadership St. Joseph's has invested in a multi-million dollar hospital renovation project on its main campus in Syracuse, and made investments in the expansion of several ambulatory care centers with the goal of improving access to care for patients and their families. Ms. Ruscitto has prioritized community engagement as integral to maintaining community health, and has led the effort that has made St. Joseph's a driving force in the revitalization of Syracuse's Northside neighborhood. She also led St. Joseph's in the creation of an innovative, integrated health care center on Syracuse's Near West Side in collaboration with key community partners.
Ms. Ruscitto has dedicated herself to civic-minded and mission-driven roles throughout her career. She previously worked for Syracuse-based Loretto, the largest provider of elder care in Central New York, as Senior Vice President of Strategy, where she implemented the Program of All-inclusive Care for the Elderly (PACE) and developed numerous community collaborations and partnerships that still exist today. She also served as the Administrator for Human Services for Onondaga County, where she oversaw the development of the County's Emergency Communications Center (E911).
Kathryn serves as a board member of several local and national health care and philanthropic organizations, including the Healthcare Association of New York State, Iroquois Healthcare Alliance, Excellus Regional Advisory Board, CNY Regional Economic Development Council, CenterState CEO, and Co-Chair of the Health Initiatives Planning Committee for the Health Advancement Collaborative of Central New York. She received her Bachelor's degree in political science and economics from Le Moyne College, and a Master's degree in public administration from Syracuse University's Maxwell School. She also holds an honorary degree of Doctor of Humane Letters from Le Moyne College.
Past Recipients
| | |
| --- | --- |
| 2019 | James J. Murphy, Jr., CNY RPDB Chairman |
| 2018 | Lawrence J. Baker, CNY RPDB Board member |
| 2017 | Rhea Jezer, Director and Chair, Symposium on Energy in the 21st Century; President, Energy21 LTD |
| 2016 | Robert J. Daino, President and CEO, WCNY |
| 2015 | Kathryn Howe Ruscitto, President and CEO, St. Joseph's Hospital Health Center |
| 2014 | Barbara S. Rivette, Historian, Town and Village of Manlius and Village of Fayetteville |
| 2013 | Cornelius B. Murphy, Jr., PhD., President, SUNY College of Environmental Science and Forestry |
| 2012 | Walter John Tennant, Jr. (posthumously), Chairman, CNY RPDB |
| 2010 | Louis Pettinelli, CNY RPDB Board member |
| 2009 | Mary Ann Messinger, CNY RPDB Board member |
| 2008 | Ferdinand L. Picardi, Chairman, Metropolitan Water Board, Onondaga County Water District |
| 2007 | David R. Elleman, CNY RPDB Board member, Onondaga County Comptroller (retired) |
| 2006 | Eugene G. Saloga, Director, City of Oswego Community Development (retired) |
| 2005 | John Zawadzki, President, Partners Trust Bank; Central Upstate Regional Alliance |
| 2004 | James T. Walsh, U.S. Congressman |
| 2003 | Robert Doucette, Armory Development & Management |
| 2002 | Chuckie Holstein, FOCUS Greater Syracuse |
| 2001 | Ralph Standbrook, Chairman, Cayuga County Legislature |
| 2000 | Robert H. Kuiper, Mayor, Village of Hamilton |
| 1999 | John H. Mulroy (posthumously), former Onondaga County Executive |
| 1998 | Ann Petrus, Chair, Cayuga County Water & Sewer Authority; Supervisor, Town of Brutus |
| 1997 | Bruce B. Phelps, Oswego County businessman |
| 1996 | Arthur W. Ospelt, Oswego County Administrator |
| 1994 | Ray Halbritter, Oneida Nation Representative; CEO, Nation Enterprises |
| 1993 | Tarky Lombardi, Jr., former New York State Senator |
| 1992 | Vijay Mital, Director, Department of Planning and Economic Development, City of Auburn; Team Snyder General |
| 1991 | Marilyn Higgins-Rohde, Senior Vice President, Greater Syracuse Chamber of Commerce |
| 1990 | Robert J. Congel, President, Pyramid Companies |
| 1989 | Warren H. Frank, Executive Director, CNYRTA |
| 1988 | Mayor Tom Young's Advertising Advisory Council |
| 1987 | Francis P. Benton, former CNY RPDB Chairman |
| 1986 | L. Steve Riford, NYS Senator |
| 1985 | Hollis Iselin, Chair, Oswego County Legislature |