Rhea Eckel Clark Citizenship Award, Past Recipients

Download the
Nomination Form
Rhea Jezer CNY RPDB's 2017 Rhea Eckel Clark Citizenship Award Recipient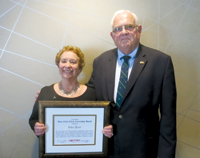 Rhea Jezer (left) receives the CNY RPDB's Rhea Eckel Clark Citizenship Award from Board Chairman James J. Murphy, Jr., at the Board's 2017 Annual Meeting
Rhea Jezer was named the recipient of the 31st annual Rhea Eckel Clark Citizenship Award at the Central New York Regional Planning and Development Board's annual meeting held on November 2, 2017.
Ms. Jezer is an Adjunct Associate Professor at SUNY ESF and was previously a senior lecturer at Cazenovia College. Ms. Jezer holds a doctorate from Syracuse University, a master's degree from Columbia University, and a bachelor's degree from Brooklyn College. As a Congressional Fellow, she helped pen legislation for the encouragement of women and under-represented minorities to enter the fields of science and math.
Ms. Jezer founded the Symposium on Energy in the 21st Century in 2005 and has been director and chair of the symposium for the past fourteen years.
Ms. Jezer, an environmental consultant and policy advisor, was an environmental advisor for Senator Hillary Clinton, worked closely with Governor George Pataki, headed the CNY campaign for the 1996 Clean Water/Clean Air Bond Act, and was on Governor Pataki's Superfund Reauthorization working group. Ms. Jezer also served on the transition teams for President Bill Clinton, Attorney General Eliot Spitzer, and Governor Andrew Cuomo, and was a co-chair of the transition team for Attorney General Eric Schneiderman. Ms. Jezer was also a member of the New York State Committee for Hillary Clinton's Campaign for President in 2017.
Ms. Jezer is a board member of the NY League of Conservation Voters, is the political chair of the Sierra Club Iroquois Group, and was chair of the Sierra Club Atlantic Chapter. She chaired the DeWitt Democratic Party and was a congressional candidate twice. She was also a presenter for the Al Gore's Climate Project.
Among her previous awards are the Post Standard Achievement Award, the Greening USA Community Advocacy Award, the NAACP Humanitarian Award, the National Organization for Women's "Woman of Power" Award, and the InterFaith Works Leadership Award "for her work bringing environmental education to Central New York."
Past Recipients
| | |
| --- | --- |
| 2019 | James J. Murphy, Jr., CNY RPDB Chairman |
| 2018 | Lawrence J. Baker, CNY RPDB Board member |
| 2017 | Rhea Jezer, Director and Chair, Symposium on Energy in the 21st Century; President, Energy21 LTD |
| 2016 | Robert J. Daino, President and CEO, WCNY |
| 2015 | Kathryn Howe Ruscitto, President and CEO, St. Joseph's Hospital Health Center |
| 2014 | Barbara S. Rivette, Historian, Town and Village of Manlius and Village of Fayetteville |
| 2013 | Cornelius B. Murphy, Jr., PhD., President, SUNY College of Environmental Science and Forestry |
| 2012 | Walter John Tennant, Jr. (posthumously), Chairman, CNY RPDB |
| 2010 | Louis Pettinelli, CNY RPDB Board member |
| 2009 | Mary Ann Messinger, CNY RPDB Board member |
| 2008 | Ferdinand L. Picardi, Chairman, Metropolitan Water Board, Onondaga County Water District |
| 2007 | David R. Elleman, CNY RPDB Board member, Onondaga County Comptroller (retired) |
| 2006 | Eugene G. Saloga, Director, City of Oswego Community Development (retired) |
| 2005 | John Zawadzki, President, Partners Trust Bank; Central Upstate Regional Alliance |
| 2004 | James T. Walsh, U.S. Congressman |
| 2003 | Robert Doucette, Armory Development & Management |
| 2002 | Chuckie Holstein, FOCUS Greater Syracuse |
| 2001 | Ralph Standbrook, Chairman, Cayuga County Legislature |
| 2000 | Robert H. Kuiper, Mayor, Village of Hamilton |
| 1999 | John H. Mulroy (posthumously), former Onondaga County Executive |
| 1998 | Ann Petrus, Chair, Cayuga County Water & Sewer Authority; Supervisor, Town of Brutus |
| 1997 | Bruce B. Phelps, Oswego County businessman |
| 1996 | Arthur W. Ospelt, Oswego County Administrator |
| 1994 | Ray Halbritter, Oneida Nation Representative; CEO, Nation Enterprises |
| 1993 | Tarky Lombardi, Jr., former New York State Senator |
| 1992 | Vijay Mital, Director, Department of Planning and Economic Development, City of Auburn; Team Snyder General |
| 1991 | Marilyn Higgins-Rohde, Senior Vice President, Greater Syracuse Chamber of Commerce |
| 1990 | Robert J. Congel, President, Pyramid Companies |
| 1989 | Warren H. Frank, Executive Director, CNYRTA |
| 1988 | Mayor Tom Young's Advertising Advisory Council |
| 1987 | Francis P. Benton, former CNY RPDB Chairman |
| 1986 | L. Steve Riford, NYS Senator |
| 1985 | Hollis Iselin, Chair, Oswego County Legislature |