Rhea Eckel Clark Citizenship Award, Past Recipients

Download the
Nomination Form
Robert J. Daino CNY RPDB's 2016 Rhea Eckel Clark Citizenship Award Recipient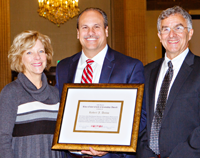 Robert Daino (center) receives the CNY RPDB's Rhea Eckel Clark Citizenship Award from Board Chairwoman Kathleen A. Rapp and Executive Director David V. Bottar at the Board's 2016 Annual Meeting
Robert J. Daino was named the recipient of the 30th annual Rhea Eckel Clark Citizenship Award at the Central New York Regional Planning and Development Board's annual meeting held on October 28, 2016.
In 2005, Robert J. Daino took on a new challenge of becoming the President and CEO of Central New York's public broadcasting company, WCNY Public Media. Since assuming this responsibility, Mr. Daino has spearheaded a journey of reinvention of WCNY as a 21st century company with programming that is inspiring, educating, and entertaining for young and old in Central New York. Today, WCNY has expanded the organization's viewership and engagement with broadcast signals reaching 19 counties and 1.8 million viewers in Central New York and parts of Canada, along with a worldwide member audience through web streaming.
As part of this commitment to excellence, Mr. Daino spearheaded efforts at WCNY to establish a partnership with OCM-BOCES and Onondaga Community College to launch an innovative co-curriculum program for high school students in Central New York. In addition, during his tenure, WCNY opened an Education Center as part of the company's new facility that hosts a unique model for experiential learning called the Enterprise America program.
Mr. Daino also created the vision and shaped the effort that launched Centralcast, a groundbreaking model for public broadcasting and the first collaboration of its kind within the PBS system. Perhaps most noteworthy has been Mr. Daino's leadership and drive to move the company's headquarters to Syracuse's Near Westside, helping to anchor the rebirth of a neighborhood with a remarkable restoration of a vacant building into a state-of-the-art facility featuring the only LEED Platinum certified broadcast center in the world.
Mr. Daino has served as chairman of the Association of Public Broadcasting Stations of New York, is President of the Syracuse Symphoria Board of Directors, and is a member of the Board of Directors for the Near Westside Initiative. Mr. Daino is also the recipient of numerous awards including the Near Westside Initiative Groundbreakers Award and the Temple Adath Yeshurun Citizen of the Year Award.
Past Recipients
| | |
| --- | --- |
| 2019 | James J. Murphy, Jr., CNY RPDB Chairman |
| 2018 | Lawrence J. Baker, CNY RPDB Board member |
| 2017 | Rhea Jezer, Director and Chair, Symposium on Energy in the 21st Century; President, Energy21 LTD |
| 2016 | Robert J. Daino, President and CEO, WCNY |
| 2015 | Kathryn Howe Ruscitto, President and CEO, St. Joseph's Hospital Health Center |
| 2014 | Barbara S. Rivette, Historian, Town and Village of Manlius and Village of Fayetteville |
| 2013 | Cornelius B. Murphy, Jr., PhD., President, SUNY College of Environmental Science and Forestry |
| 2012 | Walter John Tennant, Jr. (posthumously), Chairman, CNY RPDB |
| 2010 | Louis Pettinelli, CNY RPDB Board member |
| 2009 | Mary Ann Messinger, CNY RPDB Board member |
| 2008 | Ferdinand L. Picardi, Chairman, Metropolitan Water Board, Onondaga County Water District |
| 2007 | David R. Elleman, CNY RPDB Board member, Onondaga County Comptroller (retired) |
| 2006 | Eugene G. Saloga, Director, City of Oswego Community Development (retired) |
| 2005 | John Zawadzki, President, Partners Trust Bank; Central Upstate Regional Alliance |
| 2004 | James T. Walsh, U.S. Congressman |
| 2003 | Robert Doucette, Armory Development & Management |
| 2002 | Chuckie Holstein, FOCUS Greater Syracuse |
| 2001 | Ralph Standbrook, Chairman, Cayuga County Legislature |
| 2000 | Robert H. Kuiper, Mayor, Village of Hamilton |
| 1999 | John H. Mulroy (posthumously), former Onondaga County Executive |
| 1998 | Ann Petrus, Chair, Cayuga County Water & Sewer Authority; Supervisor, Town of Brutus |
| 1997 | Bruce B. Phelps, Oswego County businessman |
| 1996 | Arthur W. Ospelt, Oswego County Administrator |
| 1994 | Ray Halbritter, Oneida Nation Representative; CEO, Nation Enterprises |
| 1993 | Tarky Lombardi, Jr., former New York State Senator |
| 1992 | Vijay Mital, Director, Department of Planning and Economic Development, City of Auburn; Team Snyder General |
| 1991 | Marilyn Higgins-Rohde, Senior Vice President, Greater Syracuse Chamber of Commerce |
| 1990 | Robert J. Congel, President, Pyramid Companies |
| 1989 | Warren H. Frank, Executive Director, CNYRTA |
| 1988 | Mayor Tom Young's Advertising Advisory Council |
| 1987 | Francis P. Benton, former CNY RPDB Chairman |
| 1986 | L. Steve Riford, NYS Senator |
| 1985 | Hollis Iselin, Chair, Oswego County Legislature |